The Most Popular Program Available!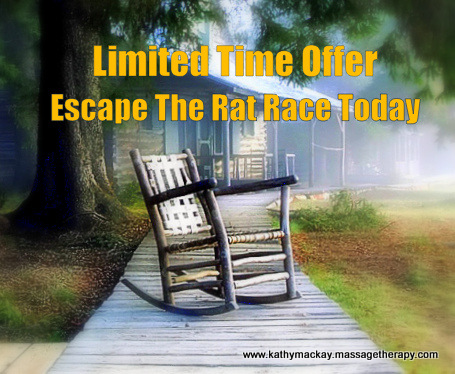 UNLIMITED MASSAGE
Escape the Rat Race
A Membership Program
Looking for affordable weekly or bi-weekly massage?
Escape the Rat Race is an Exclusive program
designed with you in mind!

Receive One Year of
♥ Unlimited ♥
Therapeutic Massage Sessions

for Only $85.00 a Session!!
___________♥__♥__♥____________

That's a $10.00 savings on EVERY SESSION!!
__________♥__♥__♥___________
Come in as often as you would like
at the same low rate of $85.00 a session
without the expenditure of having to
purchase a large package.

How Do You Get Involved In This Amazing Program??

Simply pay the yearly enrollment fee of $75.00,
secure the program with a credit card** and
whenever you come in your session is just $85.00!
It's that easy!!
PLUS
Members of Escape the Rat Race
Receive priority booking!!

Program Information:
$75.00 Yearly Enrollment Fee
$85.00 a Session as often as you wish to come in!
Secured with a credit card**
**Strict Cancellation Policy**
IMPORTANT NOTICE: A strict cancellation policy
requiring nothing less than a 24 hour advance notice of cancellation for a scheduled appointment is
required and enforced. Late cancellations or no showing your appointment will cause the credit card securing your account to be charged the $95.00 fee.
NO EXCEPTIONS!
Prices subject to change without notice.